5 Axis CNC Processing Machine
Description
The 5 axis CNC processing machine is equipped with a 5-axis linkage control system, and features complete functions to deal with more complex models than three axis wood CNC processing center and four axis wood CNC processing center.
The 5 axis CNC processing machine is qualified for processing wood and multi non-metal materials with procedures such as various complex 2 and 3 dimensional pieces crafting, and craf.
Application of 5 Axis CNC Processing Machine:
Material Processing: Suitable for processing non-metal material, such as wood, foam, PVC, etc.
Industrial Designing: Suitable for designing and processing the models (prototypes) of industrial products, such as cars, yachts, high-speed trains, etc.
Mold Industry: Suitable for non-metal mold processing, such as wooden mold for glass fiber reinforced plastic products, wooden mold for casting, plaster mold, etc.
Ceramic Bathroom Equipment: Suitable for various plaster part processing.
Furniture Industry: Suitable for processing solid wood furniture, stairs, backrests, etc.
Axis Specifications:
Axis
Working Stroke
Ball Screw Width
Re-positioning Accuracy
Max. Feed Rate
X-Axis
1500mm
35m
0.06mm
30000mm/min
Y-Axis
3000mm
35mm
0.08mm
30000mm/min
Z-Axis
1000mm
35mm
0.05mm
9000mm/min
A-Axis
±120° Rated Torque 300N.M Max. Torque 700N.M
C-Axis
±360° Rated Torque 300N.M Max. Torque 700N.M
Main Specifications:
| | |
| --- | --- |
| Type | GM1530B-5S |
| Outer dimension(L×W×H) | 3500×4500×4500mm |
| Principal Axis Motor Power | 9KW |
| Principal Axis Rotational Speed | 0-24000r/min |
| Machining Accuracy | 1000mm±0.15mm |
| Weight | 8000KG |
| Processing Speed | 0-15000mm/min |
| Power | 17KW |
| Voltage | AC380V/50HZ |
| Min. Cylinder Pressure | 6.5Kgf/cm² |
| | |
Features of 5 Axis CNC Processing Machine:
1. Machine Tool Structure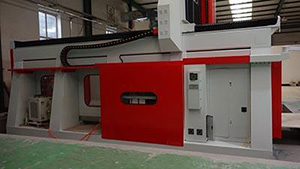 (1) Optimized Structure Design
The five axis wood CNC machining center is designed with a CAD and CAM system, optimized and improved with finite element analysis software, in order to get fine rigidity and bearing capacity for the structure.

(2) Deformation Processed Structure
The structure is built with weight increased framework and thickened squared steel, frameworks and square steels are welded without gaps, gantry and framework are with internal rib reinforcement.
Interior Stress Removed: The CNC machine is processed with all annealing and aging heat treatments, to ensure fine rigid drive of the structure.
(3)The large scale assembling platform produced by casting is equipped with a z-axis and box parallel, verticality of the 3 axes and parallelism between sides are adjusted by marble angle block measuring tools. Locating accuracy of the CNC processing machine is up to 0.05mm.
2. Spindle Head Machining Tool Magazine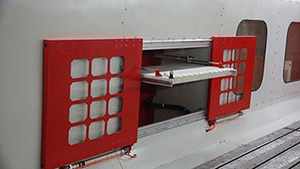 (1) Tools are put side by side, magazine capacity is up to 24. Tools can be switched automatically according to computer program, which is highly efficient.
(2) The system is equipped with paused manual tool fixing unit, so that tools can be operated at fixed point, which is more convenient.
3. Machine Tool Worktable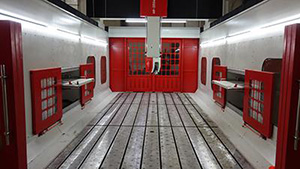 (1) Our 5 axis CNC machining center is equpped with the worktable of AWEA (Taiwan) CNC 5-axis milling center, the machine bed is smooth, which is convenient for putting guide rails and gear racks, locating and punching as well.
(2) Vacuum absorbed worktable is fixed by platen bolt, which makes mold setting convenient and stable.
(3) Worktable is equipped with lighting system, so that working area can be clear to be seen even in dim light, which makes it much safer and more accurate to operate.
(1) 3-Axis Dustproof Design: Effectively prove dust intrusion, highly protective for transmission components, and extend endurance of the device.
(2) Z-axis applies rigid box structure, with dual-cylinder auxiliary balancing system, which is effectively able for removing micro tremor during high-speed works, highly decreasing the load of z-axis servo motor and extending its lifespan.
(1) Our CNC processing center is equipped with manually precisely produced scrapping guide rail, its guide rail and gear rack parallelism is checked by guide rail level detector, to ensure the stable performance in long-time running.
(2) X-axis and Y-axis are applied with precise gears and racks manufactured by HERION, Germany, Z-axis is applied with ball screw manufactured by TBI, Taiwan, ball screw width is up to 35mm.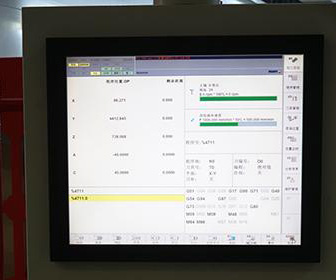 (1) Electronic oiling lubrication system, oil filling interval and single oil filling volume is adjustable.
(2) Control cabinet applied with cooling system, to avoid high-temperature work of electric components, to extend the CNC machine's endurance.
(3) Controlling system applies software including UG, Mastercam, PowerMill, etc. Operation is safer and more intelligent.
Machine framework is processed with large scale numerical controlled plasma cutting device, the CNC machine tool is processed with solderless joint procedure precisely, without any gaps.
The large scale coordinate measuring machine (CMM) manufactured in US is applied for precision checking of the machine's components, accuracy is up to 1000mm±0.15mm.
9. Dynamic Simulated Machining
Our five axis wood CNC processing center features with dynamic simulated machining function, and is able to display 3-dimensional dynamic track.
PEF is a high quality manufacturer of various CNC engraving routers and machining centers. For over 20 years, we have been dedicated to the development and manufacturing of CNC equipment such as CNC milling machines and CNC engraving machines to handle a number of special tasks such as 3/4/5-axis engraving processing, panel furniture processing, solid wood furniture processing, automotive parts processing, automobile model processing, mold processing, and non-metallic CNC processing.