Stone Engraving CNC Router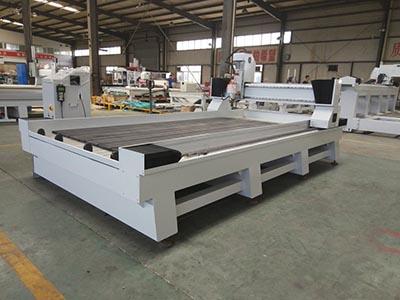 Description
The stone engraving CNC router is equipped with a 3-axis linkage controlling system. The worktable is made of steel material, because it has a higher hardness than stone. This stone processing machine also carries out various 2D stone engraving processes by adjusting the principle axis torque. Procedures include cutting, piercing, bottom milling and embossing. This stone equipment is also applicable for machine operations on items with less hardness, such as medium density fiberboard (MDF), PVC, acrylic, plastic plates and more.
Application
Suitable for engraving and processing gravestones, milestones, merit monuments, ceramic tiles, lithographs, jade craftworks, etc. Also suitable for processing high molecular weight polyethylene (HMWPE) notching, cutting, edge processing, PVC, acrylic, wood engraving and processing.
Materials Suitable for Processing
Metal and non-metal materials including natural marbles, artificial stones, granites, wood, high molecular weight polyethylene (HMWPE), etc.
Specifications
Type
F7-S1325B
F7-S1530B
Working Stroke
1300×2500×300mm(with alternatives)
1500×3000×300mm(with alternatives)
Transmission
X/Y-Axis: Square Rail, Oblique Gear Rack; Z-Axis: Screw
Drive
Step Drive
Operating System
DSP Syetem
Principal Axis
Air Cooling
Principal Axis Power
4.5KW
Principal Axis Rotational Speed
24000r/min
Tool Holder Diameter
Φ3.175-Φ16
Weight
1700KG
Software
Type3/Artcam/Mastercam/UG
Worktable
Section Bar Tool Fixture
Voltage
AC380V-/220V
Features of Stone Engraving CNC Router
Equipped with a thick square steel T type machine bed, the stone engraving machine is heavier. However, with a vibration treatment, there is less stress on the equipment, ensuring it is rigid and durable with a long service life.
Worktable designed with crossbeam rib reinforcement, processed with dust-free sandblasting paint treatment, which makes it easy for cleaning. Also, the procedure increases the friction between pieces and machine bed, which makes engraving more accurate.
The 3 axes are equipped with am HIWIN (Taiwan) square linear guide rail, and the Z-axis is equipped with a TBI (Taiwan) ball screw, both of which are accurate and durable.
The machine is compatible with various CAD/CAM software, including Type3, ArtCAM, Castmate, and Ucancam.
Software compatible is with breakpoint memory function.
Equipped with DSP controller, easy to monitor and control.
PEF is a high quality manufacturer of various CNC engraving routers and machining centers. For over 20 years, we have been dedicated to the development and manufacturing of CNC equipment such as CNC milling machines and CNC engraving machines to handle a number of special tasks such as 3/4/5-axis engraving processing, panel furniture processing, solid wood furniture processing, automotive parts processing, automobile model processing, mold processing, and non-metallic CNC processing.