3 Axis CNC Machining Center
Description
The 3 axis CNC machining center is designed with a 3-axis linkage control system and has a processing accuracy within 0.1mm. Mold processing strictly requires the CNC device to be highly rigid. To achieve high enough rigidity and processing accuracy, we adjust the torque of the principal axis and applied high-strength cast iron as a worktable material, so that the CNC machine is qualified for processing light nonferrous metal such as aluminum. The 3 axis CNC machining center is also ideal for processing materials of lower hardness, such as wood mold, wood material, etc.
Application of 3 Axis CNC Machining Center
Mold Industry: Capable for large-scale aluminum and non-metal mold machining, especially suitable for lost foam casting mold for automobiles, wood mold for ships, aircrafts, trains, etc.
Non-Ferrous Metal Processing: Suitable for processing light non-ferrous metal such as aluminum (alloy), copper (alloy), etc.
Axis Specifications:
| | | | |
| --- | --- | --- | --- |
| Axis | Working Stroke | Max. Feed Rate | Re-locating Accuracy |
| X-Axis | 1500mm | 30000mm/min | 0.03mm |
| Y-Axis | 4000mm | 30000mm/min | 0.03mm |
| Z-Axis | 1000mm | 8000mm/min | 0.02mm |
Note: Distance between worktable and principal axis with tool length added.
Technical Specifications
| | |
| --- | --- |
| Type | F5-SG1525T-3S |
| Outer dimension(L×W×H) | 3500×4500×3800mm |
| Principal Axis Power | 7.5KW |
| Principal Axis Rotational Speed | 0-8000r/min |
| Max. Tool Shank Diameter | Ф32mm |
| Processing Accuracy | 0.1mm |
| Processing Speed | 0-15000mm/min |
| Machine Power | 20KW |
| Voltage | AC 380V/50HZ |
| Cylinder Pressure | 6.5Kgf/² |
Features of 3 Axis CNC Machining Center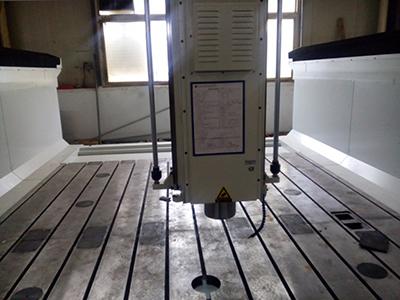 Gantry frame movement applies stepped linear rail installation design, full steel plate welding structure, processed by annealing heat treatment, its rigidity and bearing capacity is promoted, to effectively avoid gantry frame out-of-shape problem out of self-weight and welding. Machine structure is well optimized, to ensure processing accuracy and long-term stability.
The worktable is fixed, applied with high-strength cast iron material and resin sand solidification procedure, processed by annealing heat treatment, so that the worktable is with fine shock absorption and heat stability.
X crossbeam applies full steel plate welding, Y machine bed applies special thickened steel pipe welding, Z axis applies box structure, all 3 axes are with interior rib reinforcement, all parts are processed with VSR (vibration stress relief) procedure and annealing heat treatment.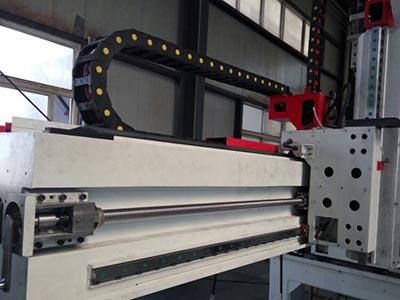 (1) All 3 axes apply precise screw transmission. Y axis applies fixed screw and follow-up screw nuts, to ensure movement accuracy while working, and promote durability.
(2) Y-axis applies 2-line 4-row precise accurate rails along with press blocks, so that the workpieces are evenly stressed during processing, which ensures the working accuracy of the rail and the stability of speed-movement.
(3) Z-axis applies 4 HIWIN (Taiwan) precise linear rails and ball screws, cast-iron high-strength box structure, processed with annealing heat treatment to relief interior stress, which ensures rigidity of Z-axis, and stability of high-speed processing.
Z-axis working stroke is up to 600mm, which grants the machine large processing size, suitable for middle and large scale mold and light metal processing.
Syntec (Taiwan) numerical control system, along with software including UG, Mastercam, PowerMill, etc. So that the CNC machine is provided more multifunctional operation, processing speed, no-load running speed and feeding speed are effectively controlled.
Intelligent machining over-range protection function, which helps avoid mechanic crashes made by machining over-range that's made by manual operating errors.
8. Power Distribution Cabinet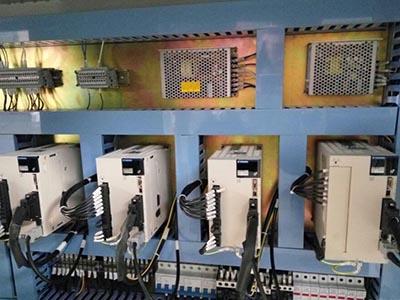 Power distribution cabinet is equipped with circulating cooling system, which effectively controls interior temperature of the cabinet, increases its service life.
We recommend you to choose CNC machining centers according to sizes of your workpieces, we provide 3-axis machining centers, as well as 4/5-axis machining centers and engraving routers for you to choose or customize.
PEF is a high quality manufacturer of various CNC engraving routers and machining centers. For over 20 years, we have been dedicated to the development and manufacturing of CNC equipment such as CNC milling machines and CNC engraving machines to handle a number of special tasks such as 3/4/5-axis engraving processing, panel furniture processing, solid wood furniture processing, automotive parts processing, automobile model processing, mold processing, and non-metallic CNC processing.