4 Axis CNC Milling Machine
Description
The 4 axis CNC milling machine is designed with a 4-axis linkage control system and its diameter is up to 800mm. The effective processing area of the 4 axis machining center is up to 2000×4000×1000 mm.
The 4 axis CNC milling machine is equipped with automatic tool change function, 8 tools contained in tool magazine, tools are auto-changable during operation to meet various processing needs. The milling machine is especially suitable for stereo sculpture mold speed processing and engraving.

Application
Foam Casting and Sculpturing: Suitable for processing and engraving lost foam casting mold for kinds of craftworks, EPS lost foam casting mold, exhibition decorating foam material, GRG foam decorating material.
Wooden Mold for Casting: Suitable for processing and engraving wood models of vehicles such as automobiles, yachts, high-speed trains, etc.
Axis Specifications:
| | | | | |
| --- | --- | --- | --- | --- |
| Axis | Working Stroke | Max. Feed Rate | Locating Accuracy | Re-positioning Accuracy |
| X-Axis | 2000mm | 35 m/min | 0.05mm | 0.035mm |
| Y-Axis | 4000mm | 35 m/min | 0.05mm | 0.035mm |
| Z-Axis | 1000mm | 8 m/min | 0.03mm | 0.02mm |
Main Specifications:
| | |
| --- | --- |
| Type | SF2040BG |
| Processing Diameter | 100mm-800mm |
| Worktable Size | 2300mm×4000mm×1000mm |
| Principal Axis Power | 9 KW |
| Guide Rail X/Y/Z-Axis | Linear Guide Rail |
| X/Y-Axis Transmission | Oblique Gear Rack Drive, m=2 |
| Z-Axis Transmission | Ball Screw (Screw- Lead: 30-10) |
| Processing Accuracy | 0.2-0.5mm |
| Weight | 9000KG |
| Voltage | AC 380V/50HZ |
| Motor Power | 2kw |
Features of 4 Axis CNC Milling Machine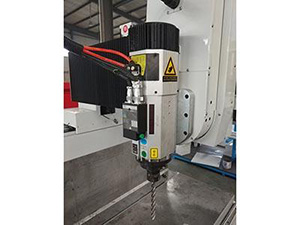 HSD9KW manufactured in Italy applied as principal axis, able for auto tool-changing, rotational speed up to 24000 RPM.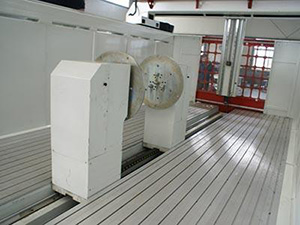 Worktable made of steel plate, maximum bearing capacity up to 3000 kg.
Triangle beam structure makes the CNC machine tool stable, along with Z-axis balancing auxiliary system, to ensure the stability of speed stereo model processing.
The CNC milling machine applies true 4-axis linkage system, able for online simulation and monitoring, to make sure of safe and efficiency processing.
5. Automatic Oiling Lubrication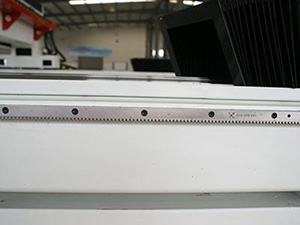 Automatic oiling lubrication system is applied, to make it more convenient for guide rail maintenance.
The 4-axis CNC milling machine is applied with 2KW YASKAWA servo motor, processing position changes according to parameter changes, controlled by inputting parameters and directions.
The machine tool is able for resuming working from break point, restoring working state after sudden power-off, and forecasting processing time, is able to handle both heavy-duty and precise works.

PEF is a high quality manufacturer of various CNC engraving routers and machining centers. For over 20 years, we have been dedicated to the development and manufacturing of CNC equipment such as CNC milling machines and CNC engraving machines to handle a number of special tasks such as 3/4/5-axis engraving processing, panel furniture processing, solid wood furniture processing, automotive parts processing, automobile model processing, mold processing, and non-metallic CNC processing.