5-axis CNC Machining Center, SF-2040T-5S Series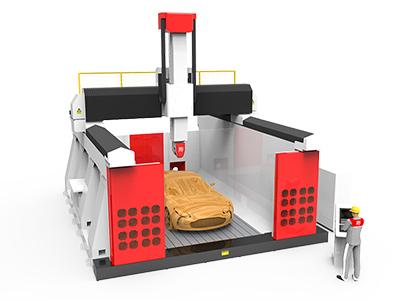 Our 5-axis linkage CNC machining center operates with 5 axes including an X-axis, Y-axis, Z-axis, A-axis, and C-axis, giving it incredible operating flexibility and performance. It is suitable for cutting and carving large 3D models, casting molds, sculptures, etc.
Casting molds and models: wood molds, foam molds, aluminum molds, composite material molds, LFC molds, sand molds, etc.
Sculpture: 3D characters, head sculptures, exhibition models, cartoon sculptures, props.
Auto part: auto parts and auto molds.
Model design: car models, aircraft models, and ship models.
Wind power industry: impeller blades, pump models, etc.
Model
F3-SF2040T-5S
F3-SF2540T-5S
F3-SF3040T-5S
F3-SF3565T-5S
X-axis stroke
4000mm
4000mm
4000mm
6500mm
Y-axis stroke
2000mm
2500mm
3000mm
3500mm
Z-axis stroke
1200mm/1500mm
1200mm/1500mm
1200mm/1500mm
2200mm
Max. feed rate
X-axis: 15000mm/min Y-axis:15000mm/min Z-axis:8000mm/min
Cast iron table
Yasukawa servo motor
Syntec 220MA-5 Control System
Powermill Software
15kW/24kW Omlat water cooled automatic tool change spindles
Founded more than two decades ago, Shandong PEF Machine Tool Co. is a lauded manufacturer of high-performance CNC processing machinery. Our equipment is carefully developed to provide users with incredible precision, and we are proud of their capabilities. We offer a series of 3/4/5-axis CNC routers that deliver a broad range of functions for many industries. These machines have been applied for numerous different applications, such as panel processing, parts prototyping, custom cabinets, architectural modeling, millwork, and much more. We provide a full range of standard equipment, but if your requirements are still not met, we can customize the machines to ensure you are fully satisfied. Contact us today to learn more!