M1325A Series CNC Router/CNC Mill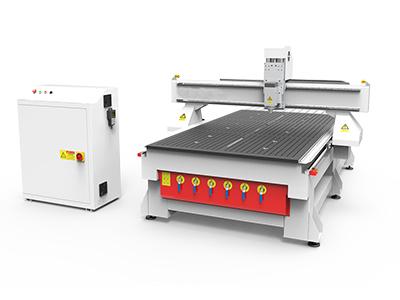 The CNC router is designed for cabinet manufacturing and is designed to complete different processes, including carving, cutting, milling, and drilling. It is used to produce cabinets, doors, shelves, and tabletops, as well as complex furniture such as desks and chairs. This CNC router is precise and efficient, with a smooth processed surface that requires no manual sanding.
Model
F5-M1325A
F5-M1631A
F5-M2131A
F5-M2142A
Stroke
1300*2500*200mm
1600*3100*200mm
2100*3100*200mm
2100*4200*200mm
Support software
Type3/Artcam/Mastercam/UG
Working voltage
AC380V-/220V
Package dimensions
3100*2100*2100mm
3800*2100*2100mm
3800*2200*2100mm
4900*2200*2100mm
Weights
1400kg
1700kg
2000kg
2200kg
The air-cooled spindles can be replaced with water cooled spindles.
A T slot table with vacuum pump and vacuum cleaner is optional.
Founded more than two decades ago, Shandong PEF Machine Tool Co. is a lauded manufacturer of high-performance CNC processing machinery. Our equipment is carefully developed to provide users with incredible precision, and we are proud of their capabilities. We offer a series of 3/4/5-axis CNC routers that deliver a broad range of functions for many industries. These machines have been applied for numerous different applications, such as panel processing, parts prototyping, custom cabinets, architectural modeling, millwork, and much more. We provide a full range of standard equipment, but if your requirements are still not met, we can customize the machines to ensure you are fully satisfied. Contact us today to learn more!