Gantry Moving 4 Axis CNC Router, SF2040Q-4S Series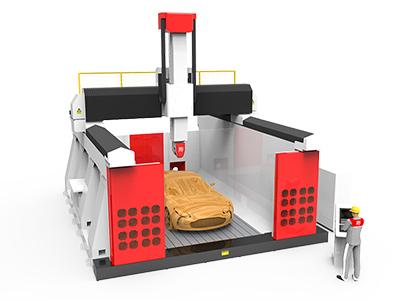 The gantry moving 4 axis CNC router is multifunctional equipment that is designed to carry out various processes, including 3D carving, punching, cutting, and much more. The 4-axis linkage CNC router can even handle workpieces with curved and irregular surfaces, such as large-scale 3D foam molds, LFC molds, 3D molds, and large sculptures.
Woodworking industry: door, furniture, loudspeaker boxes, musical instruments, etc.
Composite materials industry: plastic parts, FRP parts, rubber products, composite material parts, etc.
Foundry industry: casting molds, wood molds, epoxy molds, foam molds, LFC molds, composite material molds, injection mold processing, etc.
Automobile industry: automotive molds, car interior parts, auto parts molds, etc.
Model industry: various 3D models, landscape models, exhibition models, architecture models, etc.
Sculpture: human form sculptures, animal and plant sculptures, decorative sculptures, etc.
Film industry: movie props, activity props, etc.
Ship industry: ship propellers, steamboat accessories, etc.
The gantry moving 4 axis CNC router features a moveable beam with a fixed column structure. This provides high-precision performance and stability.
Industrial spindle with a maximum rotating speed of 24000 RPM that can rotate from -90°to +90° to carve, drill, and cut various workpieces with irregular and curved surfaces.
Its X and Y axis uses a rack and pinion drive, while the Z axis uses a screw drive.
It can process workpieces from all directions. The diameter of the workpiece can reach up to 800mm.
This 4 axis CNC router is equipped with a steel table or aluminum table depending on your operating requirements.
Syntec control system.
| | |
| --- | --- |
| Series | F1-SF2040Q-4S |
| Stroke | 2000*4000*1000mm |
| Idle speed | ≥60000mm/min |
| Processing speed | ≥30000mm/min |
| Spindle power | 9KW |
| Spindle speed | 24000r/min |
| File format | G-code |
| Working voltage | 380/220V 3PH (Customizable) |
| Dimensions | 5 x 6 x 3 m |
| Weights | 4000 KGS |
| | |
Rotary axis
Vacuum cleaner
Protective door
Founded more than two decades ago, Shandong PEF Machine Tool Co. is a lauded manufacturer of high-performance CNC processing machinery. Our equipment is carefully developed to provide users with incredible precision, and we are proud of their capabilities. We offer a series of 3/4/5-axis CNC routers that deliver a broad range of functions for many industries. These machines have been applied for numerous different applications, such as panel processing, parts prototyping, custom cabinets, architectural modeling, millwork, and much more. We provide a full range of standard equipment, but if your requirements are still not met, we can customize the machines to ensure you are fully satisfied. Contact us today to learn more!