3 Axis CNC Engraving Router
Description
The 3 axis CNC engraving router is equipped with a rotatable single spindle head, which gives it more functions compared to a fixed spindle machine.
Compared to 4-axis engraving routers, the 3 axis CNC engraving router is equipped with a 3-axis linkage controlling system, so the machine suitable for various 2D engraving works, including cutting, piercing, bottom milling, and embossing.
The 3 axis CNC engraving router offers an automatic tool changing function, which allows it to change tools without halting operations.

Application
Wood Processing: Processing furniture such as doors, windows, cabinet doors, craftwork wood doors, folding screens
Advertising Business: Engraving and cutting various labels, Engraving and cutting acrylic, producing acrylic letters and characters
Craftwork Processing: Engraving various patterns on gifts or souvenirs.
Specifications
| | | | | | |
| --- | --- | --- | --- | --- | --- |
| Type | Working Stroke | Principal Axis | Weight | Package Size | |
| F5-MI1325A | 1300×2500×200mm | 3.5KW Air Cooling Principal Axis | 1200KG | 3100x2100x2100mm | |
| F5-MI1530A | 1500×3000×300mm | 3.5KW Air Cooling Principal Axis | 1200KG | 3100x2100x2100mm | |
| F5-MI2040A | 2000×4000×300mm | 3.5KW Air Cooling Principal Axis | 1200KG | 3100x2100x2100mm | |
Features of 3 Axis CNC Engraving Router
1. Vacuum Adsorption Table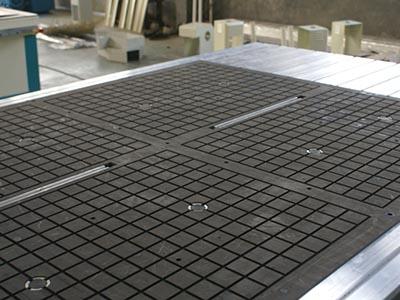 Vacuum adsorption table applies 1.3-1.45g/cm high-density material, can strongly adsorb materials with different sizes.
A solderless jointed thick square steel machine bed is used, and with the vibration treatment, the machine's interior stress is reduced. The CNC engraving machine is highly rigid and durable, and features a long service life.
3. Machine Frame Treatment
The machine frame is processed using a dust-free sandblasting paint treatment, which makes it easy to clean. This procedure also increases the friction between the pieces and the machine bed, thus ensuring an accurate engraving.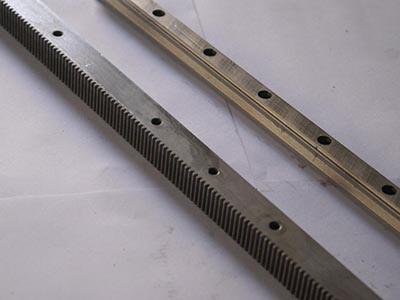 The 3 axes are equipped with an HIWIN (Taiwan) square linear guide rail, the Z-axis is equipped with a TBI (Taiwan) 3210 ball screw that features a high accuracy and durability, and the X-axis and Y-axis are equipped with an oblique gear rack drive tightly linked to gear shaft, thus ensuring an even torque transmission and reduced noise levels.
Highly compatible with software. The CNC woodworking machine is compatible with various CAD/CAM software, including Type3, ArtCAM, and Castmate
Artcam features breakpoint memory function, making it possible to resume work after a sudden operation stop.
Equipped with NK105DSP controller, easy to monitor and operate
PEF is a high quality manufacturer of various CNC engraving routers and machining centers. For over 20 years, we have been dedicated to the development and manufacturing of CNC equipment such as CNC milling machines and CNC engraving machines to handle a number of special tasks such as 3/4/5-axis engraving processing, panel furniture processing, solid wood furniture processing, automotive parts processing, automobile model processing, mold processing, and non-metallic CNC processing.